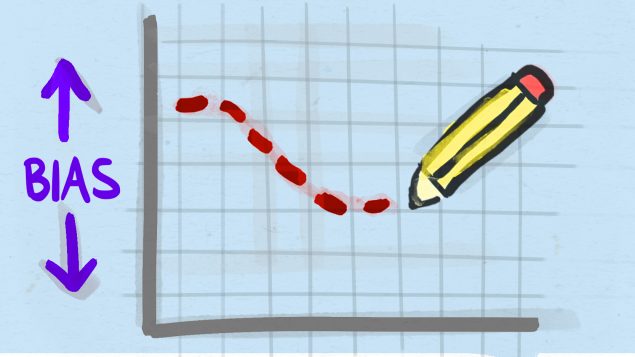 You Predict: Where Is Bias in America Headed?
Interactive
How have various implicit biases changed in the U.S. over time? Draw your predictions and compare them with the real data!
The past decade been anything but business-as-usual. We witnessed growing conversations about politics, global health, and social reform. American society has undoubtedly changed, which led psychologists Tessa Charlesworth and Mahzarin Banaji to ask: has bias in America changed too? More specifically, has implicit bias changed?
Armed with data from millions of tests taken from 2007 to 2020, Charlesworth and Banaji analyzed implicit bias—across time and at a national scale—for a slew of different categories: weight, disability, age, skin-tone, race, and sexuality.
You predict! Which, if any, biases do you think have changed? And in what direction? Have they increased? Decreased? Stayed the same? Draw your predictions below. When you're ready, click "How did I do?" to see how accurate you were:
Implicit Attitudes
Surprised? Charlesworth and Banaji certainly were when they saw that implicit anti-gay bias had dropped off by 64%! Race bias too has decreased by 25%.
What's more, change in these two biases has occurred in every demographic group: grandparents and grandchildren, along the coasts and in the middle of the country, those with more education and less education – all have changed toward greater neutrality. Yes, some groups (young people, liberals) have changed slightly faster, but the important news is that we are all changing.
Any reduction is worth celebrating, but why hasn't bias dropped even more? Why are other biases – disability, age, body weight – so sticky? It's worth thinking about, and researchers are investigating further.
Yet all this tells us one thing clearly: our minds are not static. They can and do change within our lifetimes. That's why it's so important to figure out what drives this reduction, so that we can consciously practice what it takes to change – in the direction of our own values.
Highlights
Key takeaways from this module
Implicit biases were thought to be resistant to change; however, data show that they can change
Implicit anti-gay bias has decreased by 64% in less than 15 years.
Implicit race bias (both anti-Black and anti-dark skin bias) has also decreased, by 25% in the same time frame.
That these implicit biases are changing towards neutrality is proof that bias can change - but the speed and direction of change is up to us.